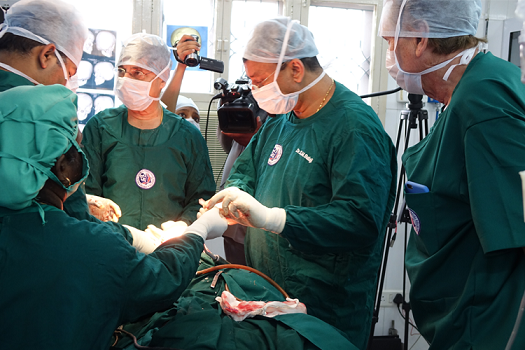 The 10th World Cleft Lip, Palate and Craniofacial Congress of the International Cleft Lip and Palate Foundation, was organized in Chennai, India, by Craniofacial Surgeon Prof. Dr. S.M. Balaji, on 24-28 October 2016.
The 1st 2 days i.e. 24 & 25 Oct 2016 were the pre-conference Live Surgery workshop which was held in Balaji Dental and Craniofacial Hospital. In this workshop, world-renowned craniofacial surgeons performed free surgeries for children and adults suffering from complex skull and face deformities. Operating Faculty included Congress President & Hospital Director Prof. S.M. Balaji, Prof. GE Ghali, Chancellor & Dean, LSU Health Sciences Center, Gamble Professor & Chairman, Louisiana, USA, Prof. Kenneth Salyer, Founder & Chairman, World Craniofacial Foundation, Texas, USA (the eminent surgeon who separated the Egyptian twins conjoined in the head & who was on the team of doctors who tried to save President John Kennedy when shot) and Dr. Jason Dashow, LSU Health Sciences Center, Louisiana, USA.
The surgeries performed were transmitted live to doctors & trainee surgeons seated in the conference hall. This workshop provided a valuable opportunity for the participants to learn intricate surgical techniques and advanced procedures from the skilled international experts.
NEWS AT MEDIA