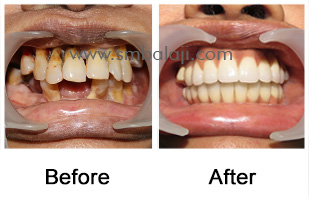 Complete oral rehabilitation with immediate implant placement
A patient of age 28 years visited our hospital with complaint of multiple mobile teeth. The patient requested for an immediate and permanent solution for the same. After complete clinical and radiographical evaluation the patient was advised to extract the periodontally weak teeth followed by immediate implant placement.
Maxillofacial Surgeon and Implantologist Dr. S.M.Balaji successfully extracted all the periodontally weak teeth without any damage to the tissues and supporting bone. Immediate dental implants were placed in the socket of the extracted teeth. Following complete osseointegration of the implant with the bone cosmetically well blended fixed ceramic prosthesis was loaded onto the implant. The patient was immensely pleased with the immediate results.